Myqsilom Elegance Suites
North Sathorn Road, Bangkok, 10500, Thailand | Hotel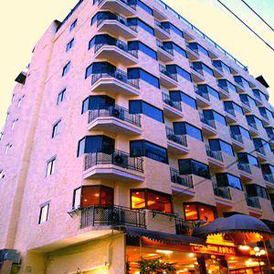 Searching for availability...
*Prices above are provided by partners for one room, double occupancy and do not include all taxes and fees. Please see our partners for full details.
Travel Blogs from Bangkok
... the monkey temple, but that was also a two hour train ride each way, so gave up on that. The huge outdoor markets would have been good thing to do but that's only on the weekend, so in the end we settled on the zoo! It was Charlie's birthday today too, and the order of the day was Chang Beer! Apparently according to her it has been the only thing other than coke that settles her dodgy stomach lol, how rather convenient. For some reason or other none of the 7 11 stores would ...
TripAdvisor Reviews Myqsilom Elegance Suites Bangkok
Other places to stay in Bangkok
1, Bangkok | 4 star hotel

from $76

Relaxing base
Oasis in the Bangkok
Alright for the price

คลองสาน, Bangkok | 4 star hotel

from $117

Truely Haven !!!!
Nice hotel but lousy service
Loved the Hilton

89 Soi Wat Suan Plu, New Road, Bangkok | 5 star hotel

from $179

Very Nice
Very romantic
The best hotel we ever stayed in

1, Bangkok | 5 star hotel

from $124

Perfect balance between business and pleasure
Good Value & Nice Pool
No problems

สวนหลวง, Bangkok | 4 star hotel

from $74

บางรัก, Bangkok | 2 star hotel

from $49

Good value for money
Not Very Good
MUSTY SMOKE

1, Bangkok | 3 star hotel

from $57

188 Silom Rd, Bangkok | 4 star hotel

from $98

Very nice hotel
Only get what you pay for
Good, not great

1, Bangkok | 5 star hotel

from $248

Response to oct 13 review
Wonderful
State of the art excellence

1, Bangkok | 5 star hotel

from $178

Spa Cottages - True City Relaxation
Disappointed check-in service and dirty bathroom
Excellent for business travellers too

บางรัก, Bangkok | 2 star hotel

from $42

ปทุมวัน, Bangkok | 5 star hotel

from $201

Total Package
Everything you'd expect - and a little more!
Fantastic Service and Good Value

ป้อมปราบศัตรูพ่าย, Bangkok | 3 star hotel

from $70

Very average club floor
Great Hotel
A Well-Known Entity

บางรัก, Bangkok | 3 star hotel

from $114

I love Holiday Inn Bangkok
Unhelpful staff
Excellent - would go back anytime!!!!

วัฒนา, Bangkok | 5 star hotel

from $121

Great location
Superb Hotel, Great Service, Great Location
Good service, decent location, heavenly bed

1, Bangkok | 5 star hotel

from $112

Old Hotel
A Very Good Hotel
Great position

บางรัก, Bangkok | 5 star hotel

from $305

First class!
Best Service, unbeatable location
Best in the world

บางรัก, Bangkok | 4 star hotel

from $79

Tower Suites well worth the extra cash
An Excellent Choice - No complaints.
Great location, views

ปทุมวัน, Bangkok | 4 star hotel

from $98

ราชเทวี, Bangkok | 4 star hotel

from $90

For Pratunam lover
Tired hotel
Best Hotel in Bangkok - AMARI WATERGATE

ป้อมปราบศัตรูพ่าย, Bangkok | 3 star hotel

from $100

Good hotel
Great 5* Service
Good location and efficient service

1, Bangkok | 5 star hotel

from $98

Excellent
Excellent value for money!!!!!
Modern, friendly and brand new!

บางรัก, Bangkok | 4 star hotel

from $82

Fantastic
The umbrella @ Rembrandt Hotel Bangkok
Best Hotel we have stayed in -ever

คลองเตย, Bangkok | 5 star hotel

from $158

Great Location, Great Deal
Fantastic
5 star hotel all the way.

87 Wireless Rd, All Seasons Place, Bangkok | 5 star hotel

from $154

World Class Hotel
The Conrad...one of Bangkok's best!
Fantastic Hotel

1, Bangkok | 3 star hotel

from $89