Myqsilom Elegance Suites
North Sathorn Road, Bangkok, 10500, Thailand | Hotel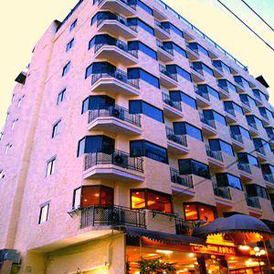 Searching for availability...
*Prices above are provided by partners for one room, double occupancy and do not include all taxes and fees. Please see our partners for full details.
Travel Blogs from Bangkok
1 photo
... they go all Bruce lee on yo ass! I was midway through washing my hands and all of a sudden I had my neck cracked in two ways without warning from someone "attacking" me from behind ( easy now) . I genuinely thought I was getting mugged. I turned around and just saw a small Asian man with a smile on his face. But without getting angry I asked him to crack my back, and he literally folded me like a piece or origami, nt sure I would take off ...
TripAdvisor Reviews Myqsilom Elegance Suites Bangkok
Other places to stay in Bangkok
1, Bangkok | 4 star hotel

from $84

Relaxing base
Oasis in the Bangkok
Alright for the price

คลองสาน, Bangkok | 4 star hotel

from $115

Truely Haven !!!!
Nice hotel but lousy service
Loved the Hilton

89 Soi Wat Suan Plu, New Road, Bangkok | 5 star hotel

from $181

Very Nice
Very romantic
The best hotel we ever stayed in

1, Bangkok | 5 star hotel

from $135

Perfect balance between business and pleasure
Good Value & Nice Pool
No problems

สวนหลวง, Bangkok | 4 star hotel

from $113

บางรัก, Bangkok | 2 star hotel

from $46

Good value for money
Not Very Good
MUSTY SMOKE

1, Bangkok | 3 star hotel

from $79

188 Silom Rd, Bangkok | 4 star hotel

from $89

Very nice hotel
Only get what you pay for
Good, not great

1, Bangkok | 5 star hotel

from $210

Response to oct 13 review
Wonderful
State of the art excellence

1, Bangkok | 5 star hotel

from $167

Spa Cottages - True City Relaxation
Disappointed check-in service and dirty bathroom
Excellent for business travellers too

บางรัก, Bangkok | 2 star hotel

from $41

ปทุมวัน, Bangkok | 5 star hotel

from $145

Total Package
Everything you'd expect - and a little more!
Fantastic Service and Good Value

ป้อมปราบศัตรูพ่าย, Bangkok | 3 star hotel

from $68

Very average club floor
Great Hotel
A Well-Known Entity

วัฒนา, Bangkok | 5 star hotel

from $116

Great location
Superb Hotel, Great Service, Great Location
Good service, decent location, heavenly bed

บางรัก, Bangkok | 3 star hotel

from $81

I love Holiday Inn Bangkok
Unhelpful staff
Excellent - would go back anytime!!!!

1, Bangkok | 5 star hotel

from $97

Old Hotel
A Very Good Hotel
Great position

บางรัก, Bangkok | 5 star hotel

from $338

First class!
Best Service, unbeatable location
Best in the world

บางรัก, Bangkok | 4 star hotel

from $110

Tower Suites well worth the extra cash
An Excellent Choice - No complaints.
Great location, views

ปทุมวัน, Bangkok | 4 star hotel

from $85

ราชเทวี, Bangkok | 4 star hotel

from $87

For Pratunam lover
Tired hotel
Best Hotel in Bangkok - AMARI WATERGATE

ป้อมปราบศัตรูพ่าย, Bangkok | 3 star hotel

from $96

Good hotel
Great 5* Service
Good location and efficient service

1, Bangkok | 5 star hotel

from $97

Excellent
Excellent value for money!!!!!
Modern, friendly and brand new!

บางรัก, Bangkok | 4 star hotel

from $68

Fantastic
The umbrella @ Rembrandt Hotel Bangkok
Best Hotel we have stayed in -ever

คลองเตย, Bangkok | 5 star hotel

from $167

Great Location, Great Deal
Fantastic
5 star hotel all the way.

87 Wireless Rd, All Seasons Place, Bangkok | 5 star hotel

from $137

World Class Hotel
The Conrad...one of Bangkok's best!
Fantastic Hotel

1, Bangkok | 3 star hotel

from $85