Jungdongjin Hotel
424, Jeongdongjin 3-Ri, Gangdong-Myeon, Gangneung, 210-822, Korea Rep. | Hotel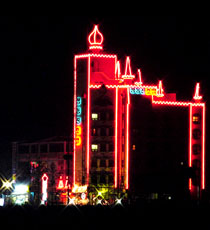 Searching for availability...
*Prices above are provided by partners for one room, double occupancy and do not include all taxes and fees. Please see our partners for full details.
Travel Blogs from Gangneung
We arrived in Donghae, South Korea, around lunch today then went through the friendliest security check ever. Other than the digital fingerprint and retina scans, which were weird, it was very similar to a Canadian going through Canadian borders. It was very friendly and efficient, and even though they tried not to laugh when Zach was too tall and basically had to kneel for the retina scan, they ...
More great choices in Gangneung
Search for more deals in Gangneung