Hui Yuan Hotel
No.1 Guangda Alley, Yanta District, Xi'an, Shaanxi, 710068, China | Hotel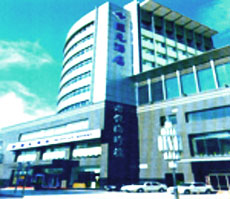 No availability found through our partners. Please contact the business directly or check some of our recommended alternatives.
Hotels available for your dates
1 / 6
« »
*Prices above are provided by partners for one room, double occupancy and do not include all taxes and fees. Please see our partners for full details.
Travel Blogs from Xi'an
... heart desires..Brietling, Omega, Tag watches, Ray Bans, Oakleys, Luis Vuitton bags, Beats by Dre headphones, Cashmere sweaters all for super cheap! Bargain...they all look a bit odd though....I'm sure no one will notice. After that we rented a tandem bike and rode around the ancient city wall that circles Xi'an. It was a great day! And I liked China that day most importantly. This night we had to be back to the train for 9pm...sleeping on a train to get to Shanghai by the ...
TripAdvisor Reviews Hui Yuan Hotel Xi'an
Other places to stay in Xi'an
Yanta District, Xi'an | 4 star hotel

from $200

Lianhu District, Xi'an | 3 star hotel

from $109

Beilin District, Xi'an | 4 star hotel

from $63

Yanta District, Xi'an | 3 star hotel

from $84

Yanta District, Xi'an | 4 star hotel

from $69

Baqiao District, Xi'an | 4 star hotel

from $102

Yanta District, Xi'an | 3 star hotel

from $79

Xincheng District, Xi'an | 3 star hotel

from $60

Lianhu District, Xi'an | 4 star hotel

from $63

Xincheng District, Xi'an | 3 star hotel

from $65

Xincheng District, Xi'an | 4 star hotel

from $104

Loved it
An Unexpected Delight
Beautiful hotel, but it doesn't work

Beilin District, Xi'an | 3 star hotel

from $30

Beilin District, Xi'an | 3 star hotel

from $57

Weiyang District, Xi'an | 3 star hotel

from $106

Beilin District, Xi'an | 3 star hotel

from $72

Lianhu District, Xi'an | 4 star hotel

from $61

Xincheng District, Xi'an | 4 star hotel

from $63

Xincheng District, Xi'an | 4 star hotel

from $26

Yanta District, Xi'an | 4 star hotel

from $48

Xincheng District, Xi'an | 4 star hotel

from $46

Yanta District, Xi'an | 4 star hotel

from $58

Xincheng District, Xi'an | 3 star hotel

from $36

Yanta District, Xi'an | 4 star hotel

from $44

Yanliang District, Xi'an | 4 star hotel

from $45

Lianhu District, Xi'an | 4 star hotel

from $42

Xincheng District, Xi'an | 4 star hotel

from $40