Hotel Princess
641-1 Sinsa-Dong Kangnam-ku, Seoul, Korea Rep. | Hotel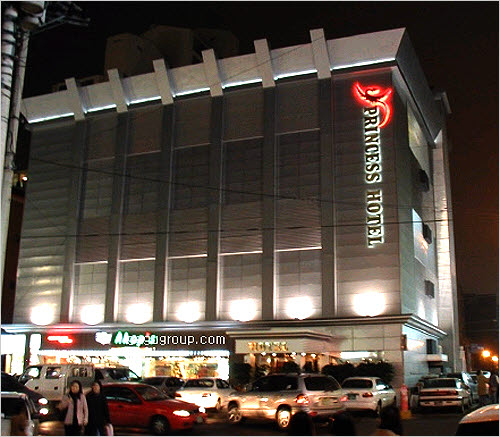 Searching for availability...
*Prices above are provided by partners for one room, double occupancy and do not include all taxes and fees. Please see our partners for full details.
Travel Blogs from Seoul
... by Cheonggyecheon, a stream that runs through Seoul, and the best dumplings, well, ever, at a local eatery. Easily spotted from Myeongdong is the hill known as Namsan, with its N Tower atop. Greater view of Seoul can't be found, and the place is the number 1 tourist spot in the city. It is also the number 1 dating spot, and they know how to make a coin from it, with photoshopped couple pictures, a teddy bear museum and a ...
TripAdvisor Reviews Hotel Princess Seoul
Other places to stay in Seoul
521 Teheranno Gangnam-gu, Seoul | 5 star hotel

from $213

186-54 2-ga Jangchung-dong Jung-gu, Seoul | 4 star hotel

from $153

322 Sowol-ro, Yongsan-gu, Seoul | 5 star hotel

from $286

Luxurious, but rooms & location are not so good
Awful Honeymoon Evening
Not what I have come to expect from Grand Hyatts

524 Bongeunsaro,Gangnam-gu, Seoul | 5 star hotel

from $214

30 Eulji-ro, Jung-gu, Seoul | 5 star hotel

from $263

202 2-Ga Jangchung-Dong Jung-gu, Seoul | 5 star hotel

from $315

676 Yeoksam-dong, Gangnam-gu, Seoul | 5 star hotel

from $169

169-1 Dowha-dong Mapo-gu , Seoul | 4 star hotel

from $112

6 Myeongdong 1-ga, Seoul | 3 star hotel

from $146

87 Sogong-dong, Jung-gu, Seoul | 5 star hotel

from $259

Average Hotel
Old classic
Old hotel 4* maximum

395 5-ga Namdaemun-ro Chung-gu, Seoul | 4 star hotel

from $216

25-10 Uijuro 1-ga Jung-gu, Seoul | 3 star hotel

from $81

603 Yeoksam Gangnam-gu, Seoul | 4 star hotel

from $141

Tlalpan Sur/South, Seoul | 3 star hotel

from $139

119 Sogong-ro, Jung-gu, Seoul | 5 star hotel

from $233

40-1 Jamsil-dong, Songpa-gu, Seoul | 4 star hotel

from $189

602-4 Yeoksam-dong, Gangnam-gu, Seoul | 4 star hotel

from $219

188-3 Euljiro 1-ga, Jung-gu, Seoul | 3 star hotel

from $120

201-1 Hongeun-dong, Seodaemun-gu, Seoul | 4 star hotel

from $172

112-5 Samsung-dong, Gangnam-gu, Seoul | 4 star hotel

from $107

1030-1 Doksan 4-Dong, Geumcheon-Gu, Seoul | 4 star hotel

from $105

32 Uljiro 6-ga Jung-gu, Seoul | 2 star hotel

from $87

77-1 Euljiro 5-ga, Jung-gu, Seoul | 3 star hotel

from $96

#202 Uijuro 1-Ga, Jung-gu, Seoul | 4 star hotel

from $141

177 Achaseong-gil Gwangjin-gu, Seoul | 5 star hotel

from $208

63-1 Banpo-Dong Seocho-Gu, Seoul | 3 star hotel

from $116