Hotel Alps
550-10 Bongmyeong-dong, Yusung-gu, Daejeon, 305-301, Korea Rep. | Hotel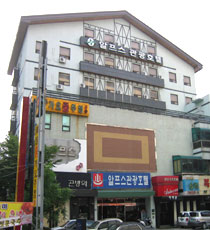 Searching for availability...
*Prices above are provided by partners for one room, double occupancy and do not include all taxes and fees. Please see our partners for full details.
Travel Blogs from Daejeon
... all his things out so he had to pick them all up. Some of the pencils went under tw "bully's" desk so he was trying to get those and the kid was trying to step on his hands! It wasn't my class (we ovserved the other teams and also assisted)and the teacher saw and didn't do anything. I didn't do anything then but I was keeping and eye on him. I made sure to interact with him during games. I think maybe he is a ...
Other places to stay in Daejeon
545-5 Bongmyung-dong, Yusong-ku, Daejeon | 4 star hotel

from $154

480 Bongmyoung-dong, Yusung-gu, Daejeon | 3 star hotel

from $108

547-6 Bongmyeong-Dong, Yuseong-Gu, Daejeon | Hotel

from $90

442-5 Bongmyung-dong, Yusong-ku, Daejeon | Hotel

from $74

445-5 Bongmyeong-Dong,Yuseong-Gu, Daejeon | 4 star hotel

from $97

230-6 Sunhwa-Dong, Chung-Gu, Daejeon | Hotel

from $51

545-7 Bongmyung-dong, Yusong-gu, Daejeon | Hotel

from $64

68-20 Yongjeon-dong Dong-gu, Daejeon | Hotel

from $50