Highfere Motel
6Th Floor, Highfere Shopping Archade, 95-1, Jungang-Dong, Changwon, 641-908, Korea Rep. | Hotel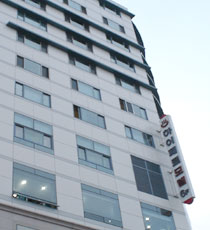 Searching for availability...
*Prices above are provided by partners for one room, double occupancy and do not include all taxes and fees. Please see our partners for full details.
Travel Blogs from Changwon
... br>

Heading back in the bus we returned to the hotel. I was sharing with two of the Korean bloggers and we had a Korean style open room with floor mattresses. They are very easy to make with very low maintenance for hotel staff but must seem quite odd for westerners.

I've stayed ...
Location
This hotel is located on 6Th Floor, Highfere Shopping Archade, 95-1, Jungang-Dong, Changwon.
Map this hotel
More great choices in Changwon
Search for more deals in Changwon
Travelers also recommend: