Highfere Motel
6Th Floor, Highfere Shopping Archade, 95-1, Jungang-Dong, Changwon, 641-908, Korea Rep. | Hotel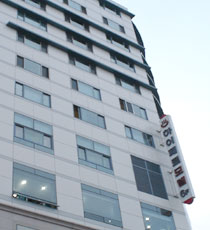 Searching for availability...
*Prices above are provided by partners for one room, double occupancy and do not include all taxes and fees. Please see our partners for full details.
Travel Blogs from Changwon
... i said that he could come to where i was staying, thinking that they might have a room. So i'm going to blame him for getting lost, that's what i'm sticking to anyway.

So after finally finding the hostel i headed out for dinner and had probably the best meal that i have had so far, it was this octopus type dish that was really spicy delicius and extremely cheap, i think it cost about $6 which was really cheap compared to Japan, plus you get lots of free extras including ...
Location
This hotel is located on 6Th Floor, Highfere Shopping Archade, 95-1, Jungang-Dong, Changwon.
Map this hotel
More great choices in Changwon
Search TripAdvisor for more deals in Changwon