Highfere Motel
6Th Floor, Highfere Shopping Archade, 95-1, Jungang-Dong, Changwon, 641-908, Korea Rep. | Hotel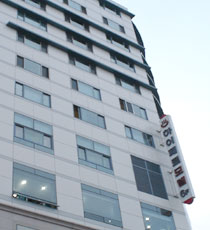 Travel Blogs from Changwon
... i said that he could come to where i was staying, thinking that they might have a room. So i'm going to blame him for getting lost, that's what i'm sticking to anyway.

So after finally finding the hostel i headed out for dinner and had probably the best meal that i have had so far, it was this octopus type dish that was really spicy delicius and extremely cheap, i think it cost about $6 which was really cheap compared to Japan, plus you get lots of free extras including ...
Location
This hotel is located on 6Th Floor, Highfere Shopping Archade, 95-1, Jungang-Dong, Changwon.
Map this hotel
More great choices in Changwon
Search for more deals in Changwon
Travelers also recommend: