Haeinsa Tourist Hotel
Address: 1230-112 Chiinri, Kaya-myun, Hapcheon-gun, Gyeongsangnam-do, 2225 BL, Korea Rep. | Hotel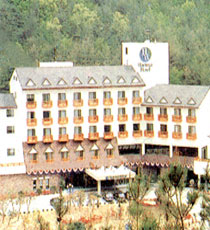 Searching for availability...
*Prices above are provided by partners for one room, double occupancy and do not include all taxes and fees. Please see our partners for full details.
TripAdvisor Reviews Haeinsa Tourist Hotel Gyeongsangnam-do
Travel Blogs from Gyeongsangnam-do
5 photos
... I didn't have a clue where to go from here. I started to follow people to see if they knew where they were going but I soon lost them due to the crowds of people. I went for a walk to try and find the train station and the canal which is meant to be the best two areas with blossom trees. I didn't have a clue where I was going because I didn't have a map and all the signs where in Korean. After having a look around the impressive food markets I went back to where the ...
Other places to stay in Gyeongsangnam-do
324, Unheung-dong, Andong | Hotel

from $56