Haeinsa Tourist Hotel
1230-112 Chiinri, Kaya-myun, Hapcheon-gun, Gyeongsangnam-do, 2225 BL, Korea Rep. | Hotel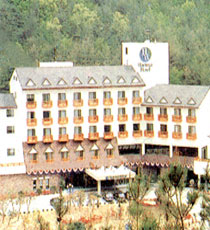 Searching for availability...
*Prices above are provided by partners for one room, double occupancy and do not include all taxes and fees. Please see our partners for full details.
TripAdvisor Reviews Haeinsa Tourist Hotel Gyeongsangnam-do
Travel Blogs from Gyeongsangnam-do
24 photos
... Seogwangsa Temple

A stunning feature of the city is the Chungmugyo bridge connecting downtown to the nearby Hallyeosudo island. The western end of this bridge is also home to equally striking Seogwangsa Temple sitting on a hill overlooking the harbour.

While not known as a tourist attraction it is worth checking out due to its close proximity to downtown, stunning ...
Other places to stay in Gyeongsangnam-do
324, Unheung-dong, Andong | Hotel

from $56