Haeinsa Tourist Hotel
Address: 1230-112 Chiinri, Kaya-myun, Hapcheon-gun, Gyeongsangnam-do, 2225 BL, Korea Rep. | Hotel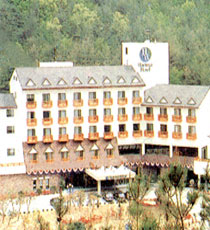 Searching for availability...
*Prices above are provided by partners for one room, double occupancy and do not include all taxes and fees. Please see our partners for full details.
TripAdvisor Reviews Haeinsa Tourist Hotel Gyeongsangnam-do
Travel Blogs from Gyeongsangnam-do
5 photos
... view and taking some nice pictures. All the way up the road was street food stools which smelt amazing. After taking so nice pictures and seen what I wanted to see I headed to the stools to get some lunch. Then I took a walk to the train station which meant going back on myself and turning left after the under path. If I'm honest, I didn't really find the train station that spectacular. People were saying that the train station is amazing and the it has cherry ...
Other places to stay in Gyeongsangnam-do
324, Unheung-dong, Andong | Hotel

from $56