Haeinsa Tourist Hotel
1230-112 Chiinri, Kaya-myun, Hapcheon-gun, Gyeongsangnam-do, 2225 BL, Korea Rep. | Hotel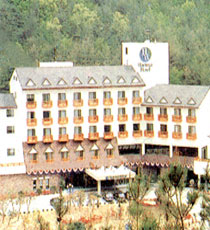 Searching for availability...
*Prices above are provided by partners for one room, double occupancy and do not include all taxes and fees. Please see our partners for full details.
Travel Blogs from Gyeongsangnam-do
... of the sea battle when the turtle ships are set out to sea and a massive battle and fireworks finale ensues. I've never been able to come as August is when I travel overseas.

Also an my previous trip I was able to get a good panorama view from up on ...
TripAdvisor Reviews Haeinsa Tourist Hotel Gyeongsangnam-do
Other places to stay in Gyeongsangnam-do
324, Unheung-dong, Andong | Hotel

from $52