Beijing Dadi Garden Hotel
No.35 Haidian Street, Haidian District , Beijing, 100080, China | Hotel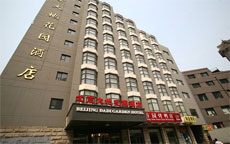 Searching for availability...
*Prices above are provided by partners for one room, double occupancy and do not include all taxes and fees. Please see our partners for full details.
Travel Blogs from Beijing
... side and see how long the drop is. Yikes!)

The village of Gubeikou is going through a revival. Apparently the government gave villagers money last year to fix up their compounds and turn them into "folk inns." It seems like all the signage is up and the front facades and the paths are fixed up, but nothing inside is quite ready and the tourists have yet to arrive (except us). The village feels like being on a Hong Kong movie set for a kung fu flick. It will ...
More great choices in Beijing
Search for more deals in Beijing
Travelers also recommend:
TripAdvisor Reviews Beijing Dadi Garden Hotel