Empire Tourist Hotel
878-1, Wolgye-Dong, Gwangsan-Gu, Gwangju, 506-824, Korea Rep. | Hotel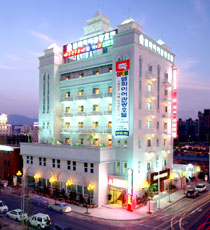 No availability found through our partners. Please contact the business directly or check some of our recommended alternatives.
Hotels available for your dates
1 / 6
« »
*Prices above are provided by partners for one room, double occupancy and do not include all taxes and fees. Please see our partners for full details.
Travel Blogs from Gwangju
... museum, a whole bunch of dioramas and things explained the evolution of Korean culture.

Families were out and people were dressed up in traditional clothing. All the kids were out flying kites and playing with hoops in front of the folk museum.

Again, a good way to spend the holiday I think, just hanging out with real people doing real traditions. It was pretty memorable for ...
More great choices in Gwangju
Search for more deals in Gwangju
Travelers also recommend:
TripAdvisor Reviews Empire Tourist Hotel Gwangju