Hotel Crown Busan
Address: 830-30 Beomil-dong, Dong-gu, Busan, 601-060, Korea Rep. | 3 star hotel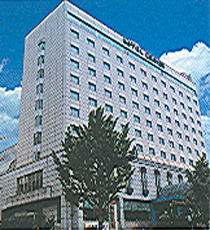 Searching for availability...
*Prices above are provided by partners for one room, double occupancy and do not include all taxes and fees. Please see our partners for full details.
TripAdvisor Reviews Hotel Crown Busan
Travel Blogs from Busan
168 photos
... and we jumped through to the other side and got to see our own private airshow! Logan is quoted as saying "you never know what you will wind when you jump through a window." :) Very true Logs, very true! We made Easter eggs with frozen blueberries,,which actually turned our brown eggs even browner, but we kinda of rubbed it all off and made cool designs on them, it was very fun! Oh! We have also been spending alot of our nights at coffee shops editing Logan's first book! I think it ...
Other places to stay in Busan
292, Haeundaehaebyeon-ro, Haeundae-gu, Busan | 4 star hotel

from $161

743-80 Youngju-dong Jung-gu, Busan | 4 star hotel

from $126

67, Dongbaek-ro, Haeundae-gu, Busan | 4 star hotel

from $202

217, Haeundaehaebyeon-ro, Haeundae-gu, Busan | 5 star hotel

from $144

23 Geumganggongwon-Ro, 20 Beon-Gil, Dongnae-Gu, Busan | 4 star hotel

from $135

772, Gaya-daero, Busanjin-gu, Busan | 4 star hotel

from $213

830-62 Beomil 2-dong Dong-gu, Busan | 3 star hotel

from $72

564-25, Gwaebeop-dong, Sasang-gu, Busan | 3 star hotel

from $135

20, Gunam-ro 30beon-gil, Haeundae-gu, Busan | 3 star hotel

from $67

21, Gunam-Ro 29beon-Gil, Haeundae-Gu, Busan | 3 star hotel

from $77

30 San Jangieon-dong Kumjeong-ku, Busan | 3 star hotel

from $54

1505 U2-dong Haeundae-gu, Busan | 3 star hotel

from $173

523-44 Nambumin-dong, Seo-gu, Busan | 2 star hotel

from $68

1391-66 Joong-dong Haeundae-gu, Busan | 3 star hotel

from $97

Magallanes 709, Ushuaia | 3 star hotel

from $84

54-1, Gudeok-ro, Jung-gu, Busan | 3 star hotel

from $74

217, Gwanganhaebyeon-ro, Suyeong-gu, Busan | 4 star hotel

from $99

125, Jungang-daero, Jung-gu, Busan | 3 star hotel

from $62

12, Jungang-daero 196beon-gil, Dong-gu, Busan | Hotel

from $84

46-7, Jungang-daero 692beon-gil, Busanjin-gu, Busan | Hotel

from $51

12 Donggwang-dong 2-ga, Jung-gu, Busan | 3 star hotel

from $97

20, Baeksan-gil, Jung-gu, Busan | Hotel

from $95

23-24, Jungang-dong 1-ga, Jung-gu, Busan | Hotel

from $47

1204-1 Choryang-dong, Dong-gu, Busan | 1 star hotel

from $51

675-10 Yeonsan-dong Yeonje-gu, Busan | Hotel

from $56