Hotel Crown Busan
830-30 Beomil-dong, Dong-gu, Busan, 601-060, Korea Rep. | 3 star hotel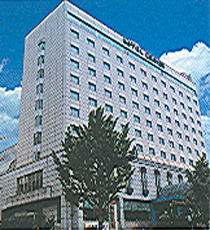 Searching for availability...
*Prices above are provided by partners for one room, double occupancy and do not include all taxes and fees. Please see our partners for full details.
Travel Blogs from Busan
Our train this morning was at around 7am so that we could get into Seoul with plenty of time for our 10:50am pickup for our tour of the Demilitarized Zone (DMZ). The KTZ train leaves from Busan station and travels at over 200 mph to make it across the country to Seoul in less than 3 hours. We were able to sleep on board and arrived right on time. …
This morning we caught a 9:30am flight to Fukuoka in the Kyushu prefecture of Japan on Skymark airlines. We originally wanted to visit South Korea by taking a direct flight from Japan, but unfortunately we tried to book out tickets a little too late and discovered that we were getting to the prime travel season in Japan. This season is typically …
... I recognised was in Korean I decided to forgo the books and head home. My legs have been aching due to the knee injury, and it's actually been a bit mentally taxing – I keep having to remind myself to take it easy… even a short walk of a few kilometres is draining, whereas in the past I have been able to walk easily 6km in an hour without thinking twice about it.

On my way home I stopped and got ...
TripAdvisor Reviews Hotel Crown Busan
Other places to stay in Busan
1405-16 Joong-dong Haeundae-Gu, Busan | 4 star hotel

from $161

743-80 Youngju-dong Jung-gu, Busan | 4 star hotel

from $126

737 Woo 1-dong Haeundae-gu, Busan | 4 star hotel

from $202

651-2 Woo-Dong Haeundae-ku, Busan | 5 star hotel

from $144

137-7 Oncheon-dong Dongnae-gu, Busan | 4 star hotel

from $135

503-15 Bujeon-Dong, Busanjin-gu, Busan | 4 star hotel

from $213

830-62 Beomil 2-dong Dong-gu, Busan | 3 star hotel

from $72

564-25 Gwaebeop-Dong Sasang-gu, Busan | 3 star hotel

from $135

544-7 Woo-1dong Haeundae-gu, Busan | 3 star hotel

from $67

1380-14 Joong-dong Haeundae-Gu, Busan | 3 star hotel

from $77

30 San Jangieon-dong Kumjeong-ku, Busan | 3 star hotel

from $54

1505 U2-dong Haeundae-gu, Busan | 3 star hotel

from $173

523-44 Nambumin-dong, Seo-gu, Busan | 2 star hotel

from $68

1391-66 Joong-dong Haeundae-gu, Busan | 3 star hotel

from $97

1392-100 Jung-dong Haeundae-Gu, Busan | 4 star hotel

from $84

8-1 Nampo-dong 5-ga, Jung-gu, Busan | 3 star hotel

from $74

193-1 Gwangan 2-Dong, Suyeong-Gu, Busan | 4 star hotel

from $99

22-4, 1-ga, Daechang-dong, Jung-gu, Busan | 3 star hotel

from $62

1203-15 Choryang-dong, Dong-gu, Busan | Hotel

from $84

223-2 Bujeon 2-dong, Busan | Hotel

from $51

12 Donggwang-dong 2-ga, Jung-gu, Busan | 3 star hotel

from $97

20 Donggwang-Dong 3-ga, Jung-gu, Busan | Hotel

from $95

23-24 1-ga Jungang-dong Jung-gu, Busan | Hotel

from $47

1204-1 Choryang-dong, Dong-gu, Busan | 1 star hotel

from $51

675-10 Yeonsan-dong Yeonje-gu, Busan | Hotel

from $56