Hotel Crown Busan
830-30 Beomil-dong, Dong-gu, Busan, 601-060, Korea Rep. | 3 star hotel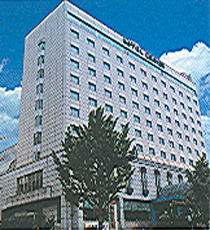 Searching for availability...
*Prices above are provided by partners for one room, double occupancy and do not include all taxes and fees. Please see our partners for full details.
TripAdvisor Reviews Hotel Crown Busan
Travel Blogs from Busan
1 comment, 20 photos
... Not wanting to test if there were any other type of explosives planted near the path, we kept walking and looked for another way to get down to the coastal path.

The next path we came across looked a little safer but was still sort of blocked off by a yellow gate. We saw other people down below and decided that it was a safe place to walk. Along this path we saw more man-made brush huts and several piles of hard things covered with green tarps. We ...
Other places to stay in Busan
1405-16 Joong-dong Haeundae-Gu, Busan | 4 star hotel

from $161

743-80 Youngju-dong Jung-gu, Busan | 4 star hotel

from $126

737 Woo 1-dong Haeundae-gu, Busan | 4 star hotel

from $202

651-2 Woo-Dong Haeundae-ku, Busan | 5 star hotel

from $144

137-7 Oncheon-dong Dongnae-gu, Busan | 4 star hotel

from $135

503-15 Bujeon-Dong, Busanjin-gu, Busan | 4 star hotel

from $213

830-62 Beomil 2-dong Dong-gu, Busan | 3 star hotel

from $72

564-25 Gwaebeop-Dong Sasang-gu, Busan | 3 star hotel

from $135

544-7 Woo-1dong Haeundae-gu, Busan | 3 star hotel

from $67

1380-14 Joong-dong Haeundae-Gu, Busan | 3 star hotel

from $77

30 San Jangieon-dong Kumjeong-ku, Busan | 3 star hotel

from $54

1505 U2-dong Haeundae-gu, Busan | 3 star hotel

from $173

523-44 Nambumin-dong, Seo-gu, Busan | 2 star hotel

from $68

1391-66 Joong-dong Haeundae-gu, Busan | 3 star hotel

from $97

1392-100 Jung-dong Haeundae-Gu, Busan | 4 star hotel

from $84

8-1 Nampo-dong 5-ga, Jung-gu, Busan | 3 star hotel

from $74

193-1 Gwangan 2-Dong, Suyeong-Gu, Busan | 4 star hotel

from $99

22-4, 1-ga, Daechang-dong, Jung-gu, Busan | 3 star hotel

from $62

1203-15 Choryang-dong, Dong-gu, Busan | Hotel

from $84

223-2 Bujeon 2-dong, Busan | Hotel

from $51

12 Donggwang-dong 2-ga, Jung-gu, Busan | 3 star hotel

from $97

20 Donggwang-Dong 3-ga, Jung-gu, Busan | Hotel

from $95

23-24 1-ga Jungang-dong Jung-gu, Busan | Hotel

from $47

1204-1 Choryang-dong, Dong-gu, Busan | 1 star hotel

from $51

675-10 Yeonsan-dong Yeonje-gu, Busan | Hotel

from $56