Communication Hotel
No.2518 Jiefang Road, Changchun, Jilin, 130021, China | Hotel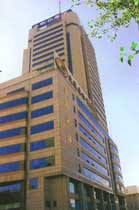 Searching for availability...
*Prices above are provided by partners for one room, double occupancy and do not include all taxes and fees. Please see our partners for full details.
Travel Blogs from Changchun
... within all of the crazy, frustrating, busy, and tiring times I have learned way more than I thought possible in two months and I feel that I've made some really great friends. There were some people in our group that I was originally worried about interacting with because I didn't know them very well and from the little I did know I didn't think we would get along. Now they are some of my favorite people to hang out with and I'm disappointed that upon ...
More great choices in Changchun
Search for more deals in Changchun
Travelers also recommend:
TripAdvisor Reviews Communication Hotel Changchun