Cats hotel
685-12, Hyoja-Dong, Chuncheon, 200-954, Korea Rep. | Hotel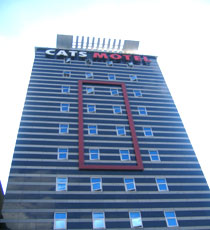 No availability found through our partners. Please contact the business directly or check some of our recommended alternatives.
Hotels available for your dates
1 / 6
« »
*Prices above are provided by partners for one room, double occupancy and do not include all taxes and fees. Please see our partners for full details.
Travel Blogs from Chuncheon
We decided to go on a Chuncheon City Bus Tour which took in most of the local sights. We are not generally all that fond of tours but this one goes into the top notch category.

We first went to an area called Gangchon, where we took a trip reminiscent of the bamboo train in Cambodia, except this time in comfort. The old train line has been used for tourist purposes with a railbike being used to transport ...
More great choices in Chuncheon
Search for more deals in Chuncheon
TripAdvisor Reviews Cats hotel Chuncheon