Cats hotel
685-12, Hyoja-Dong, Chuncheon, 200-954, Korea Rep. | Hotel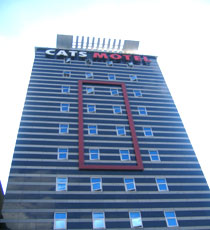 Travel Blogs from Chuncheon
... table where the young lovers in the show had made two
snowpeople and pushed them together. Naturally, today two picnic tables at the
spot feature permanent plastic snow people together and provide the perfect
photo op. And if all of these
attractions don't suffice to hold visitors' attention, the island also has -- for reasons unapparent to us -- its own
population of ostriches. Go figure, but they apparently complete ...
More great choices in Chuncheon
Search for more deals in Chuncheon
TripAdvisor Reviews Cats hotel Chuncheon