Century Guojian Hotel
Address: No.10 Chegongzhuang West Road, Haidian District, Beijing, 100037, China | Hotel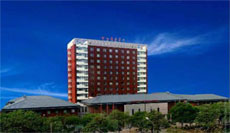 Searching for availability...
*Prices above are provided by partners for one room, double occupancy and do not include all taxes and fees. Please see our partners for full details.
Travelers also recommend:
TripAdvisor Reviews Century Guojian Hotel Beijing
Travel Blogs from Beijing
2 comments, 26 photos
... do when you're desperate! The easy bit was actually getting the trains from Beijing to Badaling, though at the time it seemed more hassle than necessary! We did as all good Chinese do and sat for an hour waiting for the train and as soon as it arrived everybody ran! The train was pretty full but we found ourselves a good spot and prayed it was going the way we wanted - the system seemed to work but you're never quite sure when the language is a difficulty. ...