Arirang Tourist Hotel
Address: 475-5 Dooryu3-Dong Dalseo-gu, Daegu, 704-063, Korea Rep. | Hotel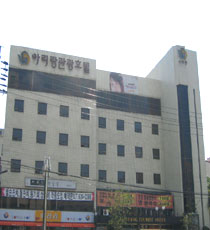 Searching for availability...
*Prices above are provided by partners for one room, double occupancy and do not include all taxes and fees. Please see our partners for full details.
TripAdvisor Reviews Arirang Tourist Hotel Daegu
Travel Blogs from Daegu
81 photos
... to the airport to fly to Jeju Island.

Usually we would be seeking out the cheaper option of a boat to take us to Jeju, with the South Korean Ferry Incident fresh in our minds we thought we had better research where it had been headed and we were shocked to discover that the tragic sinking of the MV Sewol in April which left over 300 people dead was actually bound for Jeju so we opted to fly instead. This tragedy has left a huge impact ...
Other places to stay in Daegu
611, Gukchaebosang-ro, Jung-gu, Daegu | 4 star hotel

from $129

212, Palhyeon-gil, Suseong-gu, Daegu | 4 star hotel

from $153

305, Dongdaegu-ro, Suseong-gu, Daegu | 4 star hotel

from $169

1910, Dalgubeoldaero, Dalseo-Gu, Daegu | 2 star hotel

from $77

1824-2 Daemyeong 2-dong, Nam-gu, Daegu | 4 star hotel

from $97

1198-6 Igok-dong, Dalseo-gu, Daegu | Hotel

from $138

300 Manchon-dong Susung-gu, Daegu | Hotel

from $150

245-9 Naedang-dong Seo-gu, Daegu | Hotel

from $86

106-7, Yonghak-ro, Suseong-gu, Daegu | Hotel

from $136

13, Icheon-ro, Nam-gu, Daegu | Hotel

from $66

200-1 Doosan-Dong Soosung-gu, Daegu | Hotel

from $83

330-6 Shinchen-Dong, Daegu | Hotel

from $35