Arirang Tourist Hotel
475-5 Dooryu3-Dong Dalseo-gu, Daegu, 704-063, Korea Rep. | Hotel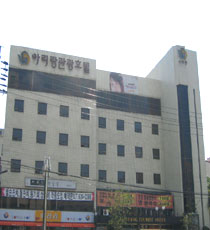 No availability found through our partners. Please contact the business directly or check some of our recommended alternatives.
Hotels available for your dates
1 / 6
« »
*Prices above are provided by partners for one room, double occupancy and do not include all taxes and fees. Please see our partners for full details.
Travel Blogs from Daegu
... since closed Handi and opened a new restaurant Aladdin across from the Kyunpook University North Gate. The location is easy to spot, across the street crossing and above the Tous Les Jours bakery

Its much nicer and larger than his previous Handi location. ...
TripAdvisor Reviews Arirang Tourist Hotel Daegu
Other places to stay in Daegu
11-1 Munhwa-dong Jung-gu, Daegu | 4 star hotel

from $113

300 Manchon-Dong, Soosung-gu, Daegu | 4 star hotel

from $129

563-1 Beumeo-dong Suseung-gu, Daegu | 4 star hotel

from $146

1196-1 Duryu 1-dong Dalseo-gu, Daegu | 2 star hotel

from $70

1824-2 Daemyeong 2-dong, Nam-gu, Daegu | 4 star hotel

from $97

1198-6 Igok-dong Dalseo-gu, Daegu | Hotel

from $138

300 Manchon-dong Susung-gu, Daegu | Hotel

from $143

245-9 Naedang-dong Seo-gu, Daegu | Hotel

from $79

888-2 Doosan-dong Soosung-ku, Daegu | Hotel

from $127

688-1 Bongdeok-dong, Nam-gu, Daegu | Hotel

from $61

200-1 Doosan-Dong Soosung-gu, Daegu | Hotel

from $76