Arirang Tourist Hotel
475-5 Dooryu3-Dong Dalseo-gu, Daegu, 704-063, Korea Rep. | Hotel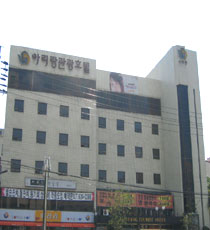 Searching for availability...
*Prices above are provided by partners for one room, double occupancy and do not include all taxes and fees. Please see our partners for full details.
Travel Blogs from Daegu
... so much to make Seollal something worthwhile for me. Without her help in planning everything, these circumstances would have never came to be. Without her perseverance, we probably wouldn't have found our way out of the city streets. Sure, we weren't ready for the plan, and we also didn't make it to our festival, but we got to watch the first dawn of the new lunar year on our late train. And we surely found the biggest. Buddha. Ever.
...
TripAdvisor Reviews Arirang Tourist Hotel Daegu
Other places to stay in Daegu
11-1 Munhwa-dong Jung-gu, Daegu | 4 star hotel

from $113

300 Manchon-Dong, Soosung-gu, Daegu | 4 star hotel

from $129

563-1 Beumeo-dong Suseung-gu, Daegu | 4 star hotel

from $146

1196-1 Duryu 1-dong Dalseo-gu, Daegu | 2 star hotel

from $70

1824-2 Daemyeong 2-dong, Nam-gu, Daegu | 4 star hotel

from $97

1198-6 Igok-dong Dalseo-gu, Daegu | Hotel

from $138

300 Manchon-dong Susung-gu, Daegu | Hotel

from $143

245-9 Naedang-dong Seo-gu, Daegu | Hotel

from $79

200-1 Doosan-Dong Soosung-gu, Daegu | Hotel

from $76

888-2 Doosan-dong Soosung-ku, Daegu | Hotel

from $127

688-1 Bongdeok-dong, Nam-gu, Daegu | Hotel

from $61