Ap-San Tourist Hotel
Address: 1713 Daemyung 5-Dong, Nam-Gu, Daegu, 705-035, Korea Rep. | Hotel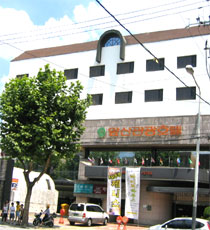 Searching for availability...
*Prices above are provided by partners for one room, double occupancy and do not include all taxes and fees. Please see our partners for full details.
TripAdvisor Reviews Ap-San Tourist Hotel Daegu
Travel Blogs from Daegu
81 photos
... 8230;. Although I think I will be sticking to my Western medicine for the time being whilst I am fine with roots and sticks, reindeer horns just don't really do it for me.

So with not much else to see or do in Daegu we spent a good amount of time getting value for money from our hotel room, steaming, Jacuzzi bathing and moisturising as much as was possible.

Our last day the rain was torrential, so we were not too sad to ...
Other places to stay in Daegu
611, Gukchaebosang-ro, Jung-gu, Daegu | 4 star hotel

from $129

212, Palhyeon-gil, Suseong-gu, Daegu | 4 star hotel

from $153

305, Dongdaegu-ro, Suseong-gu, Daegu | 4 star hotel

from $169

1910, Dalgubeoldaero, Dalseo-Gu, Daegu | 2 star hotel

from $77

1824-2 Daemyeong 2-dong, Nam-gu, Daegu | 4 star hotel

from $97

1198-6 Igok-dong, Dalseo-gu, Daegu | Hotel

from $138

300 Manchon-dong Susung-gu, Daegu | Hotel

from $150

245-9 Naedang-dong Seo-gu, Daegu | Hotel

from $86

106-7, Yonghak-ro, Suseong-gu, Daegu | Hotel

from $136

200-1 Doosan-Dong Soosung-gu, Daegu | Hotel

from $83

13, Icheon-ro, Nam-gu, Daegu | Hotel

from $66

330-6 Shinchen-Dong, Daegu | Hotel

from $35