Ap-San Tourist Hotel
1713 Daemyung 5-Dong, Nam-Gu, Daegu, 705-035, Korea Rep. | Hotel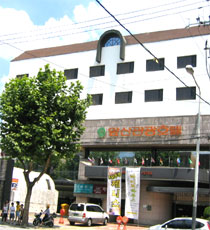 Searching for availability...
*Prices above are provided by partners for one room, double occupancy and do not include all taxes and fees. Please see our partners for full details.
Travel Blogs from Daegu
... br> Previously they were centered around the foreigner marts at Bukbu bus terminal. The original restaurant Ali Baba was run by chef Rasheed. He left and started his own restaurant Handi a few doors down leaving Ali Baba under new management



...
TripAdvisor Reviews Ap-San Tourist Hotel Daegu
Other places to stay in Daegu
11-1 Munhwa-dong Jung-gu, Daegu | 4 star hotel

from $113

300 Manchon-Dong, Soosung-gu, Daegu | 4 star hotel

from $129

563-1 Beumeo-dong Suseung-gu, Daegu | 4 star hotel

from $146

1196-1 Duryu 1-dong Dalseo-gu, Daegu | 2 star hotel

from $70

1824-2 Daemyeong 2-dong, Nam-gu, Daegu | 4 star hotel

from $97

1198-6 Igok-dong Dalseo-gu, Daegu | Hotel

from $138

300 Manchon-dong Susung-gu, Daegu | Hotel

from $143

245-9 Naedang-dong Seo-gu, Daegu | Hotel

from $79

200-1 Doosan-Dong Soosung-gu, Daegu | Hotel

from $76

888-2 Doosan-dong Soosung-ku, Daegu | Hotel

from $127

688-1 Bongdeok-dong, Nam-gu, Daegu | Hotel

from $61