TONGA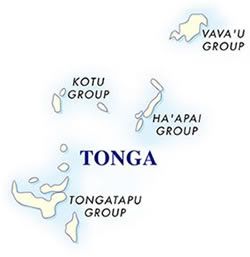 The name Tonga means "south" - further from the equator than islands such as Samoa.
Tonga is located in the very heart of the South Pacific lying east of Fiji and south of Samoa. It is regarded as one of the most scenic and unspoiled of the Pacific island nations.
The 176 islands ranging from high volcanic to low coral terrain create scenic variety seldom matched elsewhere in the world. The islands are divided into four groups and bordered on the east by the deep Tongan Trench.
Nuku'alofa, the capital, is located on the main island of Tongatapu. It is more developed than its neighbors but still maintains an unhurried and peaceful lifestyle.
Climate
Tonga has a cooler and more comfortable tropical climate
It receives less rain than other tropical areas, and maximum temperatures average 80 F / 27 C with only moderate humidity. The rainy season lasts from December to April.
For further information on Tonga's climate, please visit www.mca.gov.to/Met/
Entry Requirements
Most visitors to Tonga ( including New Zealand, Australia , United Kingdom and United States amongst others) do not require a visa as long as their intended stay does not exceed 31 days*.
Visitors from certain countries however do require a visa prior to arrival. It is best to consult with your travel agent in regard to this matter.
Visitors must also have a valid passport (6 months or more), an onward air or sea ticket and relevant health certificates. If visitors wish to extend their stay, permission must be requested from the Principal Immigration Officer.
Airports
Tongatapu: Fua'amotu International Airport is located 21km south of the capital Nuku'alofa.
Vava'u: Lupepau'u International Airport is located 10km north of the capital Neiafu.
Ha'apai: Pilolevu Airport is located 5km west of the capital Pangai.
'Eua: Kaufana Airport is located 3km south of the capital 'Ohonua.
Airport Bus Service There is no public bus service directly to the airport, but shuttles and taxis are available on international flights. Most accommodation in Nuku'alofa provides pick-up services for their guests if you let them know in advance. Teta Tours provides transfers to and from the domestic and international airport - $15/person if two or more, $20/person if only one person. In case you need any assistance with your transfers, you can enquire at the Tonga Visitors Bureau office at the International Airport located inside the arrival area, opposite the Leiola Duty Free Shop.
Departure Tax
No tax is to be paid upon your departure from Tonga since it has been prepaid with your airline ticket.
Getting To Tonga
The major airlines that service Tonga are mostly Air New Zealand , Air Pacific and Pacific Blue - With Air New Zealand being the one who frequents the region the most. Below is are details of the abovementioned airlines services:
Air New Zealand
Australia - Tonga: Air New Zealand operates daily flights to Auckland from Brisbane, Melbourne and Sydney with connecting flights to Tonga.
New Zealand - Tonga: Air New Zealand has five flights a week.
Europe - Tonga: Air New Zealand operates daily from London to Los Angeles and connects once weekly to Tonga via Apia, Samoa. Air New Zealand also operates daily from London to Auckland via Singapore or Hong Kong.
USA - Tonga - Air New Zealand has a once weekly international flight service from Los Angeles to Tonga via Apia, Samoa.
Air Pacific
Australia - Tonga: Air Pacific flies from Brisbane and Sydney to Fiji with connecting flights to Tonga from Nadi on Tuesday(s) and Thursday(s).
Fiji-Tonga : Three flights a week.
USA - Tonga: Air Pacific operates three times a week from Honolulu and Los Angeles to Nadi, Fiji. Direct flights to Tonga are also available three times a week from Suva and Nadi, Fiji with Air Pacific.
Pacific Blue
Pacific Blue is the international airline of Virgin Blue and the newest addition to currently fly from Sydney (Australia) and Auckland (New Zealand) direct to Tonga - with handy connections from domestic ports within both countries.
Flights from Sydney - Nuku'alofa depart twice weekly on Monday and Thursday
Flights from Auckland - Nuku'alofa depart twice weekly on Monday and Thursday
Other Information for TravellersReligion
This devoutly Christian nation honours Sundays across every island group – the Sabbath is declared sacred in the Tongan Constitution. Virtually every denomination is represented in Tonga with each church taking an interest in the development of the country.
Taxes
Consumption Tax (CT) of 15% applies to imports and domestic supplies of good and services.
Time Zone
Tonga is 13 hours ahead of Greenwich Mean Time.
Tipping
Tongans do not expect tips, although no offense will be caused if special service is rewarded in this way.
Dress
Bathing suits and bikinis are fine for the beach and poolside but are frowned upon if worn in public. Tongan law prohibits any person from appearing in a public place without a shirt. Dress conservatively. This means sleeves, and shorts or skirts below the knee. Women in particular need to take care when sitting down to ensure that no one can see up their skirts. Wear shorts and a t-shirt when swimming at a public beach. Skimpy swimwear is fine at resorts, but most Tongans swim fully dressed.
Electricity
The Electricity is 240 volts. Visitors should be warned to change the voltage of their electricial appliances as the voltage here is higher.
Currency
The Tongan pa'anga (TOP$) equals 100 seniti (cents). Notes are in the denominations of: Notes: $1, $2, $5, $10, $20, $50 Coins: 1, 2, 5, 10, 20, 50 Major credit cards (Visa, Master Card, American Express, Diners & JCB) are accepted at most major hotels and some restaurants and stores. Travellers' cheques are widely accepted at major banks and hotels.
Banks
There are three commercial banks in Tonga: Westpac Bank of Tonga, ANZ Bank and MBf Bank. ANZ and Westpac Bank of Tonga have branches in Neiafu, Vava'u. Westpac Bank of Tonga has a branch in Pangai, Ha'apai and 'Ohonua, 'Eua.
EFTPOS
There are at present 205 Eftpos outlets found throughout Tonga for easy payment, which accept the following cards – Visa, Mastercard, Amex, JCB, Local Debit Card, Handicard, Visa Debit Card.
Driving:
The Traffic Department of the Ministry of Transport opposite the Queen Salote Wharf, along the Vuna Road will issue a local driver's license provided you show your national driving license, at a cost of about $17 pa'anga. Driving is on the left hand side of the road at 40km/h in villages and in town and 60km/h between villages. It is important to drive safely and watch for children and domestic animals in and around the villages.
Buses:
There are no public buses, most buses are owned privately. There is no scheduled timetable but buses start early in the morning around 8am and run until 5pm in the afternoon. If you're travelling out of town make sure you are by the road at about 3pm in time to catch a bus back into town. There are two central bus stations along Vuna Road in Nuku'alofa. Just opposite the Ministry of Education building is the Bus Station that takes you to the far eastern and western district. Just further down Vuna Road, opposite the Tonga Visitors Bureau office, is the Central Bus Station that takes you as far as the Hospital and around the town area.
Taxis:
Taxis charge a minimum of TOP$3 for the first kilometre and .70 cents/km for additional kilometre. Please ensure you ask for the taxi fare to a certain place before you agree to pay or get on
Information sourced from:
Tonga Hoilday
Other sites :
Tonga - LonelyPlanet
Tonga